This page is my (ongoing) effort to document what I have learned about Itzik Feld, an ancestor who was prominent in Yiddish theatre in the 1930s and 1940s. I found little comprehensive coverage of his career, although he co-starred alongside such luminaries as Aaron Lebedeff. He notably lacks a profile in Zalmen Zylbercweig's Leksikon fun Yidishn Teater, despite headlining a performance put on to raise money for the work.
First off: names. Itzik Feld is most common in the American press and appears to have been his preferred stage name, although he sometimes went by Isidore or Izaak. יצחק פעלד is the Yiddish spelling. איציק פלד occurs in some Hebrew media. Polish sources often call him Icek or Icchok. In most other official documentation (visas, passenger lists, naturalization records) he is Izaak, Izaac, or Isaac. A few sources write Itzchok, Itschok, Yitzkhok, Yitskhok, or similar. I am sure I have missed some creative renderings.
Biography
Itzik was born in Lublin on May 5, 1897 to a theatrical family (parents Wigdor Judko Feld and Golda Bronberg). He is reported to have acted in Warsaw's Kleinkunst as a member of the Sambatyon company and in a variety of productions in Łódź during the interwar period. He also performed with stock companies in London and in Paris, where an American producer in the audience encouraged him to come the United States. He arrived in 1929, already married to Lola Spielman. Lola was an actress in her own right and they shared the stage at points.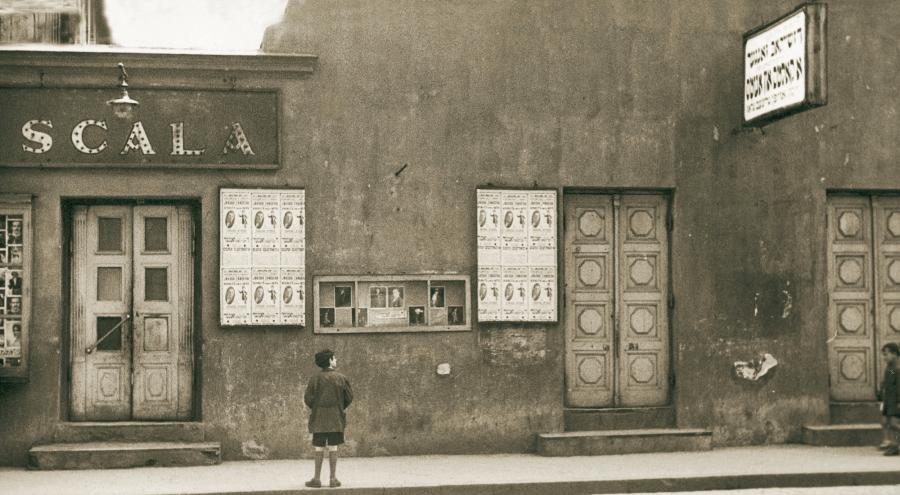 A 1932 photograph of the Scala Theater in Łódź, where Itzik performed.
Source: Przedwojenna żydowska Warszawa : najpiękniejsze fotografie
He died October 7, 1943 at his home (85 Bristol Street, Brooklyn) after several months of ill-health following an operation. At the time he was directing the play Children Without a Home at the Hopkinson Theater. He predeceased Lola and a brother, Ezra (who may once have gone by Lejb or Leon—TBD). I believe he had a sister, Rywka, who died in Poland in 1904. Itzik and Lola are buried side-by-side at Flushing's Mount Hebron Cemetery in a section reserved for members of the Yiddish theatre. Their headstone epitaph reads "The play is done, the curtain drops slow, falling to the prompter's bell."
I will fill in more biographical details later (theaters, travels to South America). My current line of inquiry relates to his 1939 production of the play Long Live America and leadership of the Yiddish Theatrical Council for the Promotion of Americanism.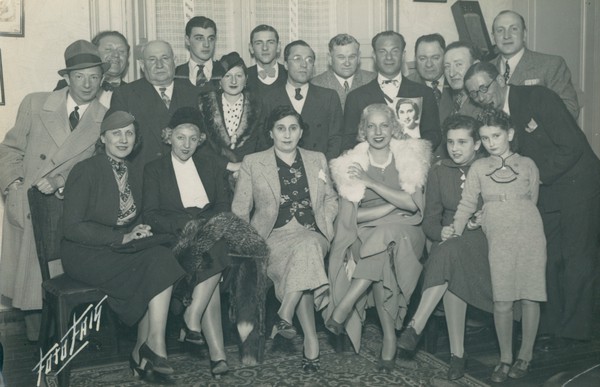 Itzik (in hat and coat) and Lola (seated, second from left) at a Montevideo radio station in 1937 with Pesach Burstein, Lillian Lux, and others. En route to Buenos Aires.
Source: Pesach'ke Burstein and Lillian Lux Yiddish Theater Archive at Harvard University.
In the New York Times' (unimpressed) eyes, the play aimed to drum up support for taking in Jewish refugees. A Gallup poll on that very question coincided with its launch. According to the Brooklyn Daily Eagle, the Council planned to "send theatrical troupes to every city and town in the United States and Canada in plays stressing the advantages of democracy." His play would have been the first.
At this time it is unclear what became of the organization or its plans.
Audio
Other known recordings
From the Syrena-Electro label:
Dajenu (5199/19?92)
Jüdische chassene (5224/19842) from "Goldener schidech"
Feigele (5224/19843) from "Goldener schidech"
Moderne zures (5225/19844)
Schmulek'l wert a chusen (5225/19845)
Nuch nile (5226/19846)
Ich wil a Weib (5226/19847)
Kataryniarz (5248/20028)
Ich ken nit gedenken (5249/20030)
Ich will verlieren (5249/20031)
A Wieg-Lied in Karnaval (5250/20032)
Lejzor Eles dyn-tojre (5250/20034)
Balonen (5251/20033)
Hajnt — Moment! (5251/20035)
Amisteik!
(5252/20037) from "Kleiner Milioner"
Bejm Tojer! (5257/20322) with Lola Spielman, from "Summerfejgelech"
Cymblen (5258/20323)
Zwei daleisym (5258/20327)
Der Fotograph (5260/20325) with Lola Szpilman from "Miss Idene"
Foxtrot (5260/20328) with Lola Szpilman from "Sommerfeigelech"
Palestina (5261/20320)
Ajzyk (5261/20321) from "Dzokele blofer"
Nuchem a chuchem (5262/20330) with Lola Szpilman
Mir geht über dos Herz (5262/20331)
Warschewer Polke (5365/?)
A Chasene in Städtel (5365/?)
Ich hob sich ausgeglitscht (5366/?)
Brief zum Pristaw (5367/?)
Gedale geht in Theater (5367/?)
Schabes noch dem kugel (5368/?)
Oj weh Tate (5368/?)
Ich hob es nischt (5369/?)
Josele un Feigele (5369/?)
Elimelech will nischt sindiken (5370/?) from "A Chasene in Städtel"
Elimelech un Rózie (5370/?) from "A Chasene in Städtel"
Dos Schneiderl (5371/?)
Der gekojfter Chosen (5371/?)
Es is nischt gewen (5372/?)
Schlojme-Salmen Piewtschik (5372/?)
Dos is die liebe (5374/?)
Handel, Handel! (5374/?)
Geh mach es macht sich nit (5375/22878) from "Gekojfter Chosen"
Theater — Bileter (5375/22880)
Moritz Kelner (5376/?)
Jontel Pentak (5376/?)
Ich fersteh nicht (5495/26390) from "Kopel Kiwe wert a Tate"
Credits
In Poland
Dybbuk
Day and Night
The Robbers
In the United States
A Village Wedding
An East Side Wedding
The Little Bandit
A Happy Family
Heaven on Earth
Women's Business
Oh, You Girls!
The Rabbi's Temptation
Love for Sale
A Beautiful Dream
Liovka Maladetz
The Warsaw Wedding
His Jewish Girl
Let's Get Married
The Polish Rabbi
Shloime Zalmen's Wedding
Shaye Shmaye's Luck
My Baby's Wedding
A Happy Dream
The Rabbi is Coming
The Brownsville Rabbi
Shulamus
Who Needs a Mother?
Yosele Dem Rebbin's
Itche Mayer from Kentucky
Children Without a Home
Resources
The Library of Congress provides on-premises access to over two dozen historical newspapers through ProQuest. Most valuable were The New York Times and The New York Tribune. I also found references in The Baltimore Sun, The Boston Globe, The Jewish Exponent, and The Jewish Advocate.
Through The Internet Archive, I found several pieces in The Billboard, Variety, and Radio Daily.
The Brooklyn Public Library gives free access to The Brooklyn Daily Eagle, even for those who don't live locally. This source contained more play announcements than any other.
The National Library of Israel and Tel-Aviv University maintain a repository of searchable digitized Jewish newspapers from around the world. These include The Forward, The Jewish Sentinel, and Al HaMishmar.
Newspapers.com has a one-week free trial through which I found many reviews of Itzik and his performances in The New York Daily News, principally written by Walter Hartman.
The Museum of the City of New York has an extensive photograph collection of performers from the Yiddish stage, including Itzik and Lola.
The New York Public Library's digital collections include placards from the Yiddish stage in New York and Buenos Aires, Argentina (where he performed).
Jewish Records Indexing - Poland, hosted by JewishGen, provides birth, marriage, and death records for 19th and early 20th century Poland. There I found birth records for Izaak (born 1897, but not registered until 1914) and Lejb (born 1893), as well as a death record for Rywka (1904).
Through Europeana.eu, you can access songs from the The Harry Orvomaa collection of Jewish recordings.
The Rachel Network (a consortium of French libraries of judaica and hebraica) lists a number of Itzik's recordings. Some are available as MP3s.
Russian-Records.com is a hobbyist site for Russian and Eastern European records from the early 20th century with many thousands of uploaded recordings, metadata, and discussions.
Tomasz Lerski has written a history and discography of Syrena Record, which operated from 1904 to 1939. They produced many recordings of Itzik and Lola around 1930.