This site represents my (ongoing if intermittent) effort to document what I learn about Itzik Feld, an ancestor who was prominent in Yiddish theater in the 1930s and 1940s as a comedic headliner, producer, and director. I found little comprehensive coverage of his career, although he co-starred alongside such luminaries as Aaron Lebedeff. He notably lacks a profile in Zalmen Zylbercweig's Leksikon fun Yidishn Teater, despite headlining a 1936 performance of Abraham Goldfaden's play, Bobe Yakhne (באבע יאַכנע), put on to raise money for the publication.
A bit about names: "Itzik" is most common in the American press and was his preferred stage name for most of his career, although he sometimes went by Isidore or Izaak. יצחק פעלד is the Yiddish spelling. איציק פלד occurs in some Hebrew media. Polish sources often call him Icek or Icchok. In most other official documentation (visas, passenger lists, naturalization records) he is Izaak, Izaac, or Isaac. A few sources write Itzchok, Itschok, Yitzkhok, Yitskhok, or similar. I am sure I have missed some creative renderings.
A brief biography
Itzik was born in Lublin on May 5, 1897 to a theatrical family (parents Wigdor Judko Feld and Golda Bronberg). He acted in Warsaw's Kleynkunst as a member of the Sambatyon company and in a variety of productions in Łódź during the interwar period. He also performed with stock companies in London and in Paris, where an American producer in the audience reportedly encouraged him to come the United States.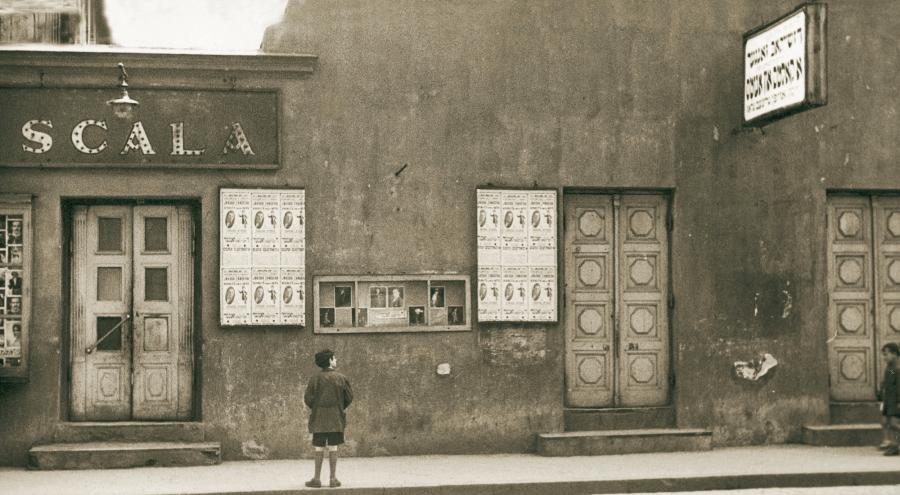 A 1932 photograph of the Scala Theater in Łódź, where Itzik performed.
Source: Przedwojenna żydowska Warszawa: najpiękniejsze fotografie
He arrived in the United States in 1929, already married to Lola Spielman (an actress in her own right who had been a member of Sambatyon). He made his debut at the National Theater in Manhattan's Yiddish Theatre District, ended up in Philadelphia's Arch Street Theatre in 1933, then returned to New York where he could be seen at the Public Theater, Second Avenue Theatre, and Hopkinson Theater (and a few others). Several extended trips back to Poland broke up his time in the US, as well as a couple trips to South America. A few of his shows toured nationally. Frequent co-stars included Aaron Lebedeff, Lucy Levin, Miriam Kressyn, and Yetta Zwerling.
He died October 7, 1943 at his home (85 Bristol Street, Brooklyn) after several months of ill-health following an operation. At the time he was directing the play Children Without a Home at the Hopkinson Theater. He predeceased Lola and a brother (named Ezra according to one obituary, though he may once have gone by Lejb or Leon—unclear). I believe he had a sister, Rywka, who died in Poland in 1904. Itzik and Lola are buried side-by-side at Flushing's Mount Hebron Cemetery in a section reserved for members of the Yiddish theater. Their headstone epitaph reads "The play is done, the curtain drops slow, falling to the prompter's bell."
You can contact me at [my full name] at gmail dot com or on Twitter @emanuelfeld.
To-dos
I am particularly interested in compiling a central digitized repository of Itzik's recordings. I have assembled a fair number through private individuals and from institutional archives. Many are yet to be found. If you are able to help plug the gaps, please let me know. I would also like to gather printed materials associated with his recordings and theatrical productions (sheet music, lyrics, posters, programs).
Currently in progress is an annotated chronology of productions in which Itzik was either an actor, director, or producer.
Other topics of interest:
Political activities. A 1939 blurb in the Brooklyn Daily Eagle reports that 1,600 members of the Yiddish theater profession had joined under the banner of the Yiddish Theatrical Council for the Promotion of Americanism, with Itzik as head of the coalition. They reportedly planned to "send theatrical troupes to every city and town in the United States and Canada in plays stressing the advantages of democracy." His production of a William Siegel adaptation of Abraham Blum's Long Live America (לעבּן זאָל אַמעריקע) was to be the first. In the New York Times' estimation, this production was not merely a pro-democracy pep talk, but was aimed to drum up support for taking in Jewish refugees. A Gallup poll on that very question coincided with its launch. The council is unfamiliar to every researcher I have contacted and I have yet to find further mention of it in the English- or Yiddish-language press. What became of it and its plans?

Family and pre-emigration activities. How were his parents involved in the theater? What documentation exists of his early European career?

Diasporic travel. In 1931, Itzik returned to Lublin to act in Polish productions. Itzik and other New York-based Yiddish theater performers traveled to South America in 1937 as part of a variety of productions. Pesach Burstein recounts this trip in his memoir, What a Life!. Burstein also seems to have harbored quite some disdain for Itzik, whom he accused of stealing a funny whistling gag. Sharing the same ship to Argentina, Burstein recounts: "I would rush up early to swim in the Olympic-sized pool so that I wouldn't have to share the water with Feld. Lili laughed when I claimed I wouldn't swim in the water Feld had pissed in."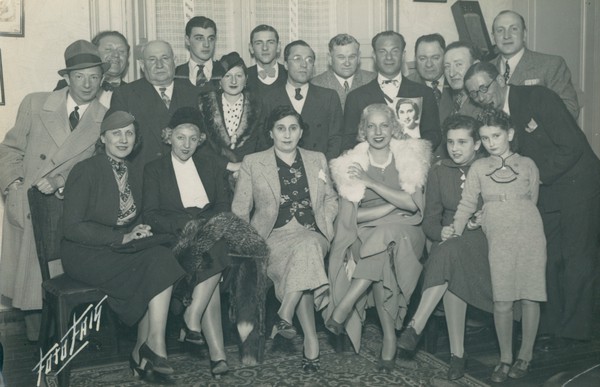 Itzik (in hat and coat) and Lola (seated, second from left) at a Montevideo radio station in 1937 with Pesach Burstein, Lillian Lux, and others. En route to Buenos Aires.
Source: Pesach'ke Burstein and Lillian Lux Yiddish Theater Archive at Harvard University.
Radio performances. Itzik presented Pini from Pinchev for two years as a radio program prior to its arrival on the stage. Do any recordings exist? (Many other programs are available through the Yiddish Radio Project.)